Aqua Fitness Certification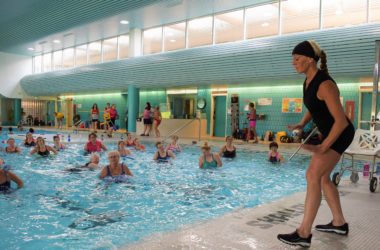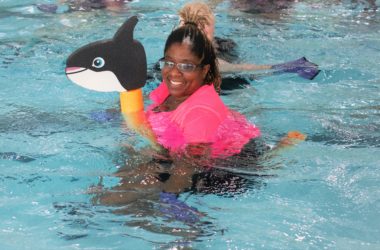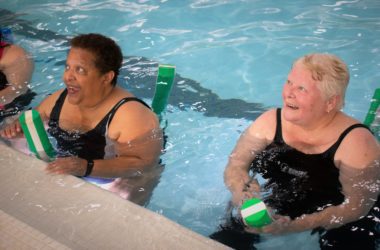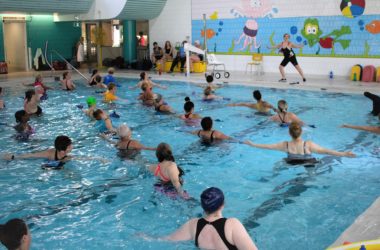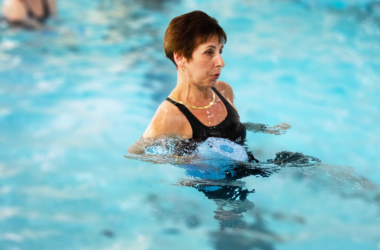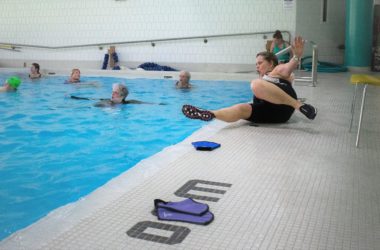 WaterART Fitness offers many levels of  both on-site and home study education. We specialize in education for instructors, group instructors, personal trainers, health care providers and consumers. We offer both land and water fitness programs specializing in functional fitness and improving  quality of life with purposeful exercise whether in a group or one on one.
WaterART is an acronym for understanding how to design purposeful programs. We believe that the application of science is an art. We know that training in the water and on land requires different skill sets. We encourage our professionals to explore both career paths.  Each modality will require specialized training for a better understanding on how training on land (with gravity) is different from training in water (using the protection and properties of water).
Whether teaching on land or in the water, a leader must design programs that will help the individual participant gain results whether in a group or training individually. We have developed education for general programming as well as more specific programming so that a professional may specialize their skills to provide more teaching opportunities.
Comprehensive Certification Programs requiring both practical and theory examinations.
Specialty Certification Programs requiring only a one part of the exam (either theory or practical) if the candidate has Comprehensive Certification.
All WaterART programs are available via home study, Onsite or Virtual training or Home Study educational.
Virtual/Onsite educational programs are guided by a Certified Master Trainer which allows the candidate to ask questions throughout the journey (although you may email us at any time).  All programs may be purchased online and candidates may choose their best option to completing exam process.
All candidates will receive the exact same training materials. We recommend that candidates review the videos (which may be done via online with our convenient WaterART Fitness App or Vimeo Video Streaming). Candidates should dedicate about 40 hours to review comprehensive programs and 25 hours for specialty programs.  All of our information has focus on practical skills and drills to fully prepare the leader for facilitating dynamic and functional weight bearing exercises. 
Candidates complete the same examination process and have the same options for completing the exam process depending on exam topic.
The difference in the type of skills that are learned depends on individual learning style. Some people learn kinetically so being lead by a Certified Master Trainer to  get up and move may be more helpful.  If you have a will to lead others -we can help you with the skills. 
WaterART Fitness understands that learning is dynamic and everyone learns uniquely!
Learn about our land and aqua fitness exercise programs.
Comprehensive Certifications
Learn to create a safe, balanced and total-body water fitness program.  This is our most popular foundational program which explores group exercise in shallow and deep water depths. This general certification will provide leaders with a template for blending exercise science with the properties of water. You will explore both theory (classroom), and practical (pool) applications to build a well-balanced program.
Candidates do not have to be a lifeguard to join this program as no experience is necessary, and they will have up to six months to complete the certification after the training.
We welcome anyone interested in leading and teaching vertical water fitness to enroll in this certification course.
This program improves functionality for seniors using water exercise. Research shows that movement in water  improves daily living activities as the water provides a protective environment. Therefore, it naturally balances the body to allow improvement of strength and posture. These skills are necessary in order to age well!
Explore theoretical and practical testing that will cover how water exercise has a positive effect on the aging population, including those with common medical conditions. Instructors will review safety tips and possible modifications for teaching water exercise to a group with a variety of skill levels and health histories.
Retirement community staff or anyone interested in working with our senior population may start with this level.
This program will teach your trainers how to apply advanced scientific principles to training one-on-one participants and small groups. Candidates will effectively target components of fitness and performance as well as review total body assessments to better understand the differences between land and water programming. This teaches the trainer how to evaluate, maximize, and progress a client's results. Focus on identifying a baseline for muscular and postural strength, cardiovascular endurance and flexibility. Review the possible applications of aquatic fitness equipment to improve your client's results.
We do recommend completing our foundation program prior to enrolling in this level so that trainers will have a good exercise inventory in order to successfully build progressive movement sequences for this certification. 
This program requires an advanced understanding of anatomy, biomechanics, and exercise design so experience in the aquatic fitness industry is important. This aquatic training certification will teach you exercises determined by a physiotherapist to be suitable for a general population recovering from injury, replacement surgery, and other debilitating conditions that prevent them from being fully mobile. The learning objective is to understand anatomy, safe joint range, muscle action and overall fitness level requirements needed to design a safe exercise program helping an individual to return, as close as possible to, their previous levels of mobility. The regions of focus are cervical thoracic and lumbar areas of the spine, as well as the shoulder, hip, knee and ankle joints.
This is an advanced aquatic training program created to teach your instructors rehabilitation exercises as developed by a physiotherapist. Candidates for this program will require a superior understanding of anatomy, biomechanics and water exercise design in order to properly support athletes.
We recommend that those interested in this certification have completed at least two other levels of WaterART before enrolling. Seasoned instructors are necessary for sharing wellness with clients and this will educate your instructors about the rehabilitation process. Please note that instructors who are not registered therapists may not use the title, "therapist."
This intensive certification explores many types of individual and group sports activities. Training includes aquatic cycling, aquatic running, finning, boot camp, the correct use for dumbbells in the water and advanced buoyancy cuff movements. Learn techniques to help athletes prevent common sports injuries or to speed up recovery. Our program combines intervals and circuit training as well as the usage of water-specific equipment to progress sports instructors with the tools to challenge even the seasoned water fitness athlete.
This program may be facilitated in shallow and/or deep water depths. No swimming skills are required; the goal is to provide an vertical athletic water fitness program.
In shallow water, the body's balance is at feet-level as they are more easily anchored to the pool floor. This means that a shallow water certification provides instructors with a system for designing total-body exercise classes. Instructors will learn exercise science and programming applicable to a variety of skills and fitness levels; both swimmers and non-swimmers alike.
Aquafit equipment such as pool noodles, mitts and dumbbells can be introduced. This is an excellent option for the non-swimmer instructor!
No experience is necessary.
Deep water workouts are more challenging because the body's center of balance is at chest-level. In order to effectively work in deep water, each person must learn and be able to maintain good balance skills to anchor the core muscles against buoyancy.
This instructor certification will provide a multitude of ideas and exercises using buoyancy belts and/or noodles for creating a deep water exercise program.
Learn how to provide progressions for those who have experience in deep water with advanced aquatic equipment.
This program enables your instructors to design a mindful group exercise program uniquely blending the principles and techniques of Yoga, Pilates, and Tai Chi with the protective environment of the water. Mindfulness is necessary when exercising as it promotes mental awareness of one's body. You may also use what you learn in this certification for relaxation and stress relief at the end of teaching a class!
Both cool and warm water pools may be safely and effectively programmed in this blend of new aquatic fitness ideas.
An instructor with this certification will be able to teach parents of tots (8-18 months) and toddlers (18 months to 3 years) of age in a water fitness class. Candidates will help parents maintain and enjoy fitness as they exercise with their baby or toddler through the early years. Tots' activities focus on developing basic gross and fine motor skills and language acquisition, as well as shape and color recognition. The toddlers' activities focus on social interaction, physical coordination and following directions. You will learn how to use music, functional movement, and water play to facilitate parent-child bonding during exercise. This training will review programs geared for both swimmer and non-swimmer parents.
Learn how to make programs specific to the needs of expectant mothers. Water exercise is an excellent modality for pre and post-natal fitness. Based on the American College of Obstetrician & Gynecologist (ACOG) guidelines, safety and contraindications to exercise will also be reviewed. Acquire the knowledge necessary to support mothers by showing them the amazing benefits of exercise before, during, and after this time in their lives.
Candidates learn both shallow and deep water exercises to facilitate classes for both swimmers and non-swimmers.
Kids require fun and exercise! This program is extremely easy to organize and is intended to help instructors facilitate children's programs in a positive environment.
Targeted for children ages 6 to 12, each lesson plan is 30 minutes in length and can be used as a program to compliment swimming lessons! The lesson plan may also be scheduled once a week for a 10-week program, or scheduled every day for a 2-week camp program. Laminated cards for 10 different lesson plans are included with this certification.
Keep kids healthy! Start exercise habits when they are young!
Weight management is a lifetime journey. Maintaining a regularly scheduled program while providing specific water fitness exercises to your clients is necessary to help them achieve long-term results. Exercise helps many people with medical conditions including diabetes, high blood pressure, cardiovascular diseases and joint issues. Positive lifestyle choices can greatly reduce the physical, emotional and financial challenges that arise from being overweight.
Water fitness offers a unique protection to the joints and painless mobility. Learn this specific exercise inventory to maximize caloric expenditure.
Walking is the #1 functional activity that keeps a person independent. Walking in the water supports and protects the less-abled as well as challenges those who think aquafit is easy! Review more than 100 ways, (yes, over 100!) to improve your gait variety in stretching, strengthening and cardiovascular conditioning as well as how to have an enjoyable workout. Moving through the water with a variety of walking patterns and progressions will provide additional core, posture, balance and mobility benefits.
This program will also prevent momentum and torque on the joints, which commonly occurs in other vertical water exercise programs.
This advanced intensity program will review both shallow and deep water depths.  This training will explore aquatic running with High Intensity Interval Training System (HIITS) lesson plan as well as  total body muscular balancing approach for injury prevention. Runner's on land should utilize water exercise to also recover more quickly with land exercise. Aquafit Running has been researched to help athletes on land improve their running times and goals. Injured runner's may stay protected and train with non impact loading in the deep water.
Buoyancy belts, tethers, cuffs and other advanced water equipment may be incorporated into this training.
Our arthritis certification is the second most popular training program at WaterART. Millions of people have some form of arthritis, and gentle aquatic fitness classes are growing in popularity to help them. Learn how to modify and progress exercises as well as vary their intensity to meet the needs of a multi-level arthritis water exercise program. This course will review common forms of arthritis, exercise design, safety guidelines, aquatic class planning, functional range of motion and joint actions, as well as an arthritis specific exercise inventory. This training session may be completed in regular pools or warm water pools.
Investigate common movement disorders (CMDs) including Parkinson's disease, Multiple Sclerosis and strokes so you may design programs suitable for these conditions. Learn how to incorporate necessary functional exercises to aid with your clients' activities of daily living (ADLs), as well as incorporate balance and posture retraining, muscular strengthening, flexibility and agility. This program is suitable for both swimmers and non-swimmers as well as caregivers and regular water fitness instructors. This is an excellent entry level program.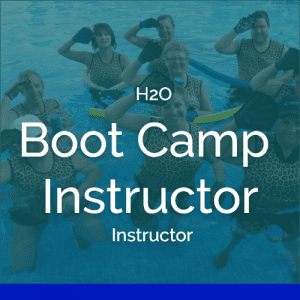 The goal of the program is to provide a more athletic and intense approach to fitness classes. This Certification program will help the Instructor to cross-train their client(s) using the protection and multi-dimensional resistance of water fitness. Intervals of cardiovascular conditioning will be integrated into muscular strengthening sets using advanced equipment and techniques. Learn how to take command of your class so there is a no nonsense approach. Three specific program designs will be explored (advanced noodles, dumbbells and tubing with handles). Kick your programs up a notch.
Weight Management Programs
Comprehensive Certification
Upgrade your skills and review a program that emphasizes wellness and positive lifestyle change. Whether you are learning healthy habits for your personal use or tips on how to apply them to your classes, this program is an excellent tool to help everyone manage a healthy weight and losing weight and becoming more healthy is the #1 reason people attend a program.
The Managing a Healthy Weight workbook combined with an instructional video will take you through pertinent information on basic nutrition and strategies to improve your lifestyle.
As a Certified Weight Management Consultant you will have the tools to be confident to deliver the 10 week Managing a Healthy Weight Program. This program may be facilitated as an adjunct to group exercise programs or as a new program to attract and maintain people struggling with an unhealthy lifestyle. You will receive the complete materials to get this program off the ground! This training will provide the Consultant with a system that will help the individual incorporate behavior strategies and techniques to create positive lifestyle change. The program will emphasize regular physical activity, proper nutrition and a healthy attitude toward body image.