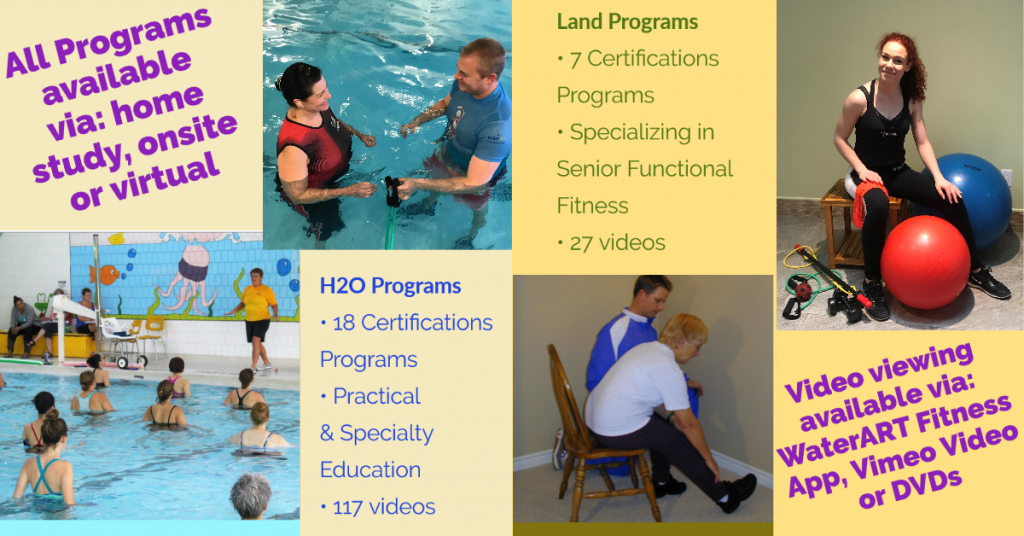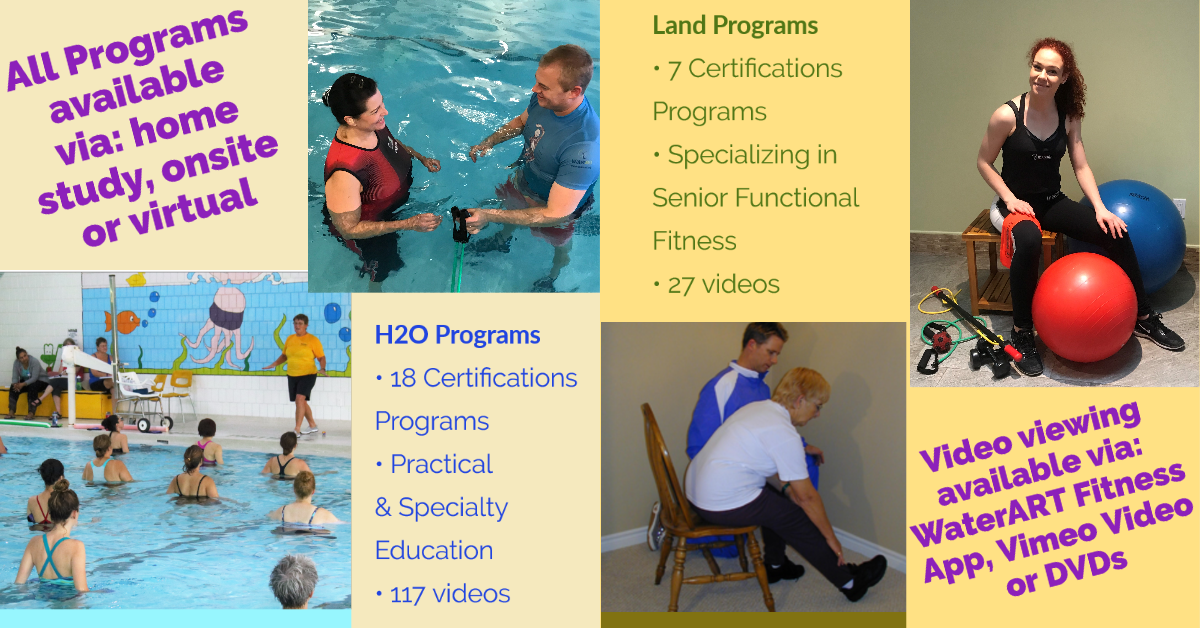 The Goal of our WaterART Fitness Training Programs
Certified Fitness Instructors may work in many styles of both public and private locations.
Community Centers

City Parks and Recreation Centers,

Condominiums,

Private clubs,

Schools,

JCC,

YMCAs,

YWCAs Corporations,

as well as you may specialize and work pools in private homes. 
There are really endless opportunities.
How Do I Get Started In The Fitness Industry?
Check out the fitness facilities in your area and get to know their programs.
Take part in a wide variety of fitness classes.
Decide what type of fitness interests you the most. If teaching fitness doesn't keep your interest you won't enjoy teaching
Volunteer your services.
Talk to class participants, find out their goals and/or needs for a program.
Talk to facility directors, instructors, personal trainers find out if they will help you with training.
Where Can I Look For A Job?
All community centers, condominiums, private clubs, YMCAs, YWCAs, Spas and Golf clubs may have fitness facilities and pools that offer job opportunities.
Check out your local fitness facilities looking for group instructors.
Check bulletin boards for people looking for a personal trainer.
Large companies with fitness centers, vacation centers, hotels, and cruise ships
Check out Job Postings
To become certified each candidate is required to complete both theory and practical sections of the exam with a passing grade of 75% for each segment.
Instructors may become certified and qualified either via Onsite educational (you do training at a scheduled location guided by a Certified WaterART Master Trainer) or Home Study/Online Education (at home with self learning techniques).
The examination process is the same whether you complete onsite or via home study education or a combination of both learning methods. 
What Do The Industry Standards Require?
Industry standards require that all instructors be certified and qualified by an approved organization such as WaterART Fitness.
Exercise Safety and liability protection is the most important reason to achieve Certification. Instructors who achieve Certification are eligible for insurance and liability protection.
Do I Need To Become Certified Before I Start Teaching?
Definitely YES

Realize that it is extremely important to become certified for the type of fitness you will be teaching. (land or water, group or personal training, specialty training versus general training)

For instance: if you are only interested in group instruction for healthy people then a general certification may be adequate.

If you plan to advance to teach in a specialized area such as for an Arthritis or Rehabilitation Program, or decide to offer personal training then you need to upgrade your certification for that specific area. Never claim to be knowledgeable in an area of fitness for which you have not received Certification. Also, assume jumping into a post rehabilitation or personal trainer position will require advanced knowledge – so if you don't know the foundation (the Instructor program) then completing the examination process will become exponentially impossible unless you purchase the DVD Tutorial programs to supplement your education.
Find the Next Onsite training event guided with Master Trainer