Here at WaterART, we have an extensive track record of producing success stories from those who participate in our programs.
Below are some examples of our greatest successes.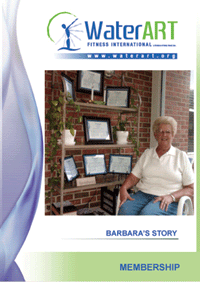 Barbara is an exemplary example of the how water exercise may change your life for the better. We hope you will be inspired to reach out to help others.
In 2007, after being diagnosed with sugar diabetes, high cholesterol and high blood pressure, I was prescribed a series of medications for these problems. But although I was eating correctly and doing all the right things (I thought), I began to feel worse. My back started to hurt and I became very weak, and , at one point, could not even walk. I felt that all my strength had left me and I felt really depressed. I went back to my family doctor who sent me for an MRI and then to a neurosurgeon who, after reading the MRI, informed me I had 22 cysts down my spine that could be causing the pain. He also indicated that there was nothing he could do except prescribe more medication for the pain.
My husband, Mac, and I sat down to discuss what could be done about my situation. I had the definite feeling that a lot of the problem could be the combination of my medications and the cysts. I definitely did not want to take pain medication for the rest of my life, so, although we both knew I was not keen on exercising, we both thought an exercise program could help.
Somehow fate had a miraculously way of intervening in my life. During our discussion the mail arrived and among the mail was a flyer advertising exercise programs at the Katie and Irwin Kahn Jewish Community Center. Mac immediately noticed the classes for water aerobics and pointed out that this could be the answer "even though you don't swim", like the water or want to get your hair wet! But, at this point I felt I had nothing to lose, it was worth a try and we made the call that would change my life. The flyer indicated that we should call Kaytina Haack, Aquatics Director for the JCC. I explained my health problems to her, that I did not like the water and definitely did not want to get my hair wet. Her advice- just come try it out and wear a shower cap! Mac and I went to the JCC that very day and signed up. The next day, scared to death, I took my first aquatic fitness class – that was August 2007.
It was my good fortune that the instructor for this was Robyn Dowling, a wonderful and caring person who made me welcome right at the start. It seemed like Robyn and Kaytina had been sent just to help me through my problems. They both took the time to make sure I did the exercises correctly without pain and I decided to also take some personal training from Kaytina to help with faster improvement to the point that Robyn encouraged me to take a higher level program. She even went to the first class with me to make sure I could handle the moves. It was not long before my back stepped hurting, my blood sugar and cholesterol levels dropped and I could stop taking the medications. I occasionally still have a pain in my buttocks (definitely not from Mac!) but once I get into the water it always feels better. My worst days are on the weekends when I don't get into the water so I have to make sure I don't sit around too much.
Becoming A Certified Instructor
Right from the early days after meeting Kaytina and Robyn they encouraged me to become an aquatic instructor. I could NOT believe they thought I could do this, but because all the other people in the class were so supportive of me I agreed to try. I asked Robyn how to get started, where could I go to get the best instruction? She said I should contact WaterART Fitness International Inc., which I did in and in march 2008 I became an instructor at the JCC. In order to be able to help more participants in the water as well as myself I began to take more programs and workshops from WaterART. Last year Shane Whatley, the Aquatics and Recreation Coordinator at the JCC asked me if I would be interested in becoming a (water) Personal trainer. I replied "I will go for it!" I took the WaterART certification and later that year I also became certified as a Rehabilitation Specialist. My plan is to be able to help other people just as Kaytina and Robyn helped me.
From Problem Person To Part Timer
When I first began instructing the classes I would not teach from the deck. I did not want to leave my comfort zone in the water even though I knew there were times when I should be on deck to demonstrate moves for the class. However it was not long before I gained sufficient confidence and now, without hesitation, I can teach from the deck when the need arises. My goal is to teach the class a lot of functional moves to help perform daily activities on land safely by working on good posture while getting stronger. I am now a part-time employee of the JCC where I instruct 8 classes a week. These comprise: 4 classes for Senior fitness, 2 for Advanced Senior fitness, 1 for Water Walking and 1 for Mind-Body (Tai-Ch, Yoga and Pilates).. I also have personal training clients.
I wish that I had started this type of fitness program earlier in my life but, as a friend reminded me "There is a season for everything and this was YOUR season". I am not sure how everyone else feels abut water but I know one thing; if I had not taken to the water I would not be able to do all the things I can do now. My thanks goes to WaterART Fitness for having all the different types of program available to meet every kind of fitness need. One day I may have to go on medication again but for now, I am able to stand tall and stay fit in the water where my joints are protected, I am stronger and my flexibility and cardiovascular fitness has increased.
My thanks also goes to Kaytina, Robyn, the other JCC instructors and the special people in my class who have encouraged me without fail through every decision I have made. Of course the best thanks go to my wonderful husband, Mac, who has supported and shared this life changing experience with me as well as 45 years of marriage. Of course my fitness experiences would not have been possible without my faith in God and His help. My love to all of you.
Hi Julie and Joanne,
Just wanted to thank you again for such a great experience during the training & certification journey. Has been such a great positive learning curve and your support in my case transitioning from Land to Water.Not to mention the confidence level and the full "Tool Box" of exercises that I have received, with the most adaptable techniques. A lot of my participants are already noticing that, they are loving the exercises names!LoL Most of them are not fully getting the "Titanic" thing thou but hey laugh anyway… On my 2nd week of teachings, 6 classes per week in 5 locations. Participants have been spreading the positive feedback from last week start and this week so far 4 pools full capacity 50, 38 and 20 people!!That's exciting and wanted to share the good news and positive feedback about my classes. Thanks again. I look forward to seeing you in future practices and/or training.
Enjoy the rest of the nice summer!
Mauricio
Thank you so much for going through and evaluating my examand lesson plan in such a timely fashion. That was a huge surprise to me! I will go through all comments again when I have some quiet time. As a former classroom teacher I appreciate the detailed comments.
Many thanks,
Anne-Marie M. from Alberta
I would like to say thank you so much , I enjoyed the workshop with Lydia Pontius on April 30th and May 1st,2016 in Mt. Pleasant SC. Lydia did outstanding job and provided a volume of information for Aquatics Arthritis and Aquatics Sports Conditioning workshop . She demonstrated her professionalism and outstanding facilitation. Lydia delivered all important information of this workshop it was interesting and exciting and very informative as she has a vast knowledge and life experience she so freely shared with us. I was very happy and thankful that you have people such as Lydia teaching and instructing water instructors. Lydia is a shining example of love for her profession and a credit for Water Art Fitness International Inc.
Very Respectfully , Lyubov Bergen
I wanted to thank you for setting up such a great course this weekend. I was very impressed with the amount of knowledge we covered, the practical portions of the course were full of great ideas as well. I hope to meet with you in the near future as I begin to set up my exercise blueprints for the courses and clients I will be working with.
Maurya Tatler 
Hi Julie,
I was so impressed withyour online re-certification course for aquatic fitness. The DVD080 (4 DVDs) were comprehensive and very informative. I found that the exams were reflective ofthe material covered in the DVDs. Any material that Imissed during my original certification course was covered in these DVDs and it provided a refresher of the original material that I learned. I have taken the practical components of these DVDs and I have applied them to my aquatic fitness classes. The participants were very impressed with the new exercises that I introduced to them. For my next re-certification, I plan on taking the home study course again.
Thanks again,
Roslyn Caro, Vaughan, ON
Thanks Julie!
It is quite amazing to note how fast, informative and user friendly your website is – yesterday as soon as i got off the phone with Alicia, i noticed i had received emails pertaining to my order placed and shipping info.
Congrats to your team.
Thank you,
Pradeep
Lucia,
I really did get a lot out of your workshops. You did a wonderful job and it certainly shows that water therapy is your passion and teaching is what you were born to do. One of these days I will have to come to your Aqua Power Gym Class. Have to admit that by the afternoon I am usually exhausted and don't have enough get up and go to workout (or I just forget). Thanks for your hard work and the great classes. I am now trying to apply some of it, as several of my students have probably already told you–we did many new things in class yesterday, and they were just amazed at all the difference doing opposed lever movements made in their ability to work the water.
Linda
Hello Drucilla (note Drusilla) and Ruth,
Wow! It was an exciting, educational and get in shape weekend! I learned/reviewed many water exercises, I purchased some useful items, and I benefited from the land work out and pool drills which got me ready for my Tennis match on Monday. Drucilla nice meeting you.
My thanks to the Drucilla/Ruth WaterArt Team. Stay in touch.
Lucia M. Hoffenberg
Hi Ruth –
I have received your comments on my completed exam. Thank you for such comprehensive and specific feedback. I especially appreciate the section on the first skill – being able to recover from falling. I blew right by that one – thought I knew the answer. The part about designing my program, each exercise with progression and modification – so important. …also the one about backward walking – proprioception and balance….heck, it was all helpful. Now that I'm pretty comfortable with the class, I'm teaching I'm thinking more clearly and planning better. Speaking of the class, we're all having a good time! This opportunity to substitute has been wonderful and it's a good fit for me. I spoke with Robert today, and he's beginning to want to get back to the water, hopefully he'll be back in the saddle by the summertime. I just had a proposal accepted to teach a water class through the new Adirondack Folk School in Lake Luzerne this summer. I'll keep you posted on how it goes – should be interesting doing a class in the lake! Got any tips to share about that type of setting? Again, thank you. I look forward to doing more training and developing my skills as an instructor.
Nancy (newly Certified Instructor) in Saratoga, FL
Dear Julie and Staff,
Just wanted to thank you for the wonderful, as always, amazing customer service this past week. I ordered some Speedo shoes and a bathing suit and received them both yesterday morning. I absolutely love them both! The Speedo bathing suit fits wonderfully and is so comfortable. (What???? A bathing suit that is comfortable, how can this be?) I chuckled, recalling all the years of buying bathing suits and trying to find THE perfect suit. You know the one……it must make certain areas look smaller, others bigger, cinch in the waist and make my legs elegantly long. I actually bought one of these from Land's End. It looks OK, but the getting into it and then getting out (especially when wet)….all I can say is that giving birth was easier! When I put the Speedo on, all I felt was comfort and the other criteria didn't even enter my mind (but I think I look pretty good in it as well). So once again thanks to all of you (and Tammy, the magenta colour is lovely!)
Regards, Michele Purdy
Dear Julie,
I purchased the WaterArt Video: Shallow And Deep, Teaching A Combo Class at a recent workshop that I attended, and so impressed with this video. It is exactly what I was looking for, to give me the confidence to teach my participants in both depths of water, and the ability to adjust and mix moves that will keep them motivated. Thank you so much for producing excellent instructional videos to keep instructors up-to-date and well educated.
Karen Chow
Aquafit Instructor, Scarborough, Ontario
Hello Julie,
Thank you for getting back to me. The receipt is fine. I am looking forward to receiving and trying out the buoyancy belt – I have new WaterART class starting April 5…deep water and high intensity cardio. During the last three weeks partcipation in my WaterART Arthritis class has increased to 28 people….a little too big really…so we may be splitting it up into two classes. This would mean a total of 12 WaterART classes per week !!! WOW. It's growing by leaps and bounds and everybody loves it. Long-time participants have seen huge improvements in their ROM, strength, endurance etc. Word of mouth is doing wonders! I am also doing a fair amount of Rehab therapy and seeing some remarkable results with clients. Fantastic…which is why I continue to advertise the benefits of WaterART. You will not be able to reach Monica at the Lifeplex as she is no longer on staff nor is she working anywhere else at this time (to the best of my knowledge). I am desperately trying to find 4-5 aquatic exercise steppers. Since you informated me that Speedo no longer makes these steppers I've surfed and surfed and surfed the net -without success, trying to find them. If you know of anybody who might have some I would be delighted to make contact – even used steppers would be great as long as they are in good condition. I tried to put a message on the WaterART bulletin board but I=2 0keep getting rejected. I'll keep trying.
Thank you kindly Julie.
Best regards, Valerie
Dear Julie,
Thank you for another great weekend! It was intese and you have once again helped me on my pathway to become a better Water Fitness Proffesional. I emailed Pam Bennett to thank her and her staff today and mentioned how great you were! I just got in from teaching 4 classes today and my new shirt was a big hit!
I forgot to tell you yesterday when we were in the water; I noticed that the zipper on the back of your full body "muscle" suit needed some work. There are threads coming off down the zipper and the tail of the zipper isn't sewn in. I am a costumer so I notice these things. I will finish putting together my program cards and send in my exam this week.
Thanks again Julie it was an awesome weekend.

Anne Marie Waterhouse
was in a rush to leave on Sunday so I did not have time to thank Julie for an excellent workshop. I learned some new moves and had a chance to practice them and Yes! I had FUN! Handouts were good. I like the photo demos on the back of the noodle workout.  As leaders in the Aquafit industry we should be modelling water consumption. Only 3 water bottles for a group of 15. Shame!! We are reminded to bring our water bottles to class. I am pleased with my purchase of the closed cell noodles and will be sharing them with my participants in the hope that they can pressure my pool into purchasing some.
Again many thanks to Julie for a wonderful day.

Cheers
Gerarda Schouten
HI Julie

Just want to thank you for coming down and doing a fabulous job. I believe that it was well received and that everybody was able to take something from it and use it at their facility. I hope you enjoyed our facility and found it accommodating. Also hope that you had a safe trip back to Toronto.  We will have to definitely do this again in the future.

Thanks again,

Penny DuMouchelle
Windsor Family Fitness
Hi Julie,
Had a "TOTALLY AWESOME" time training with you over the weekend. Thanks for all of your help.

Kim
Hello Julie,

I love getting these news updates with scroll-down course options, how-to-Re-Cert. advice! Also, fact that you get CEC with your Video and Quizzes is absolutelly great, supportive of your instructors you have trainer (and realistic for today's modern professional)! I am thinking about the Rehab. Cert. course in Hamilton…Will see! Taking the WateArt Cert. has been such a good use of my time and money: there is work, even in smaller Can. communities. If you are unique and enthusiastic, plus-research-based in your instructions, your clients 'flock' to your classes! Goodness, I feel honoured by the response I have been getting to most of my classes, and I have done this rather a short time. I guess the Nursing/Health background helps a lot! Also, from a personal fitness perspective, having come to "love the water, without fear" is just great, period; a true gift for me!

Take Care! Hope to see you at some seminar soon.

Regards,

Claudia M. Eyre RN, BScN
Let me begin with "thank you" for an outstanding training this past weekend. One of my favorite trainings ever! You have inspired me to become re-certified to teach water classes. As I mentioned, I stopped teaching several years ago when my life became so full and I needed to focus on my family and work. However;as life is constantly changing, once again I have the time to do something a truly enjoy. I'm taking the plunge and I'm hooked on WaterArt Exercise with Purpose. I can't wait to take that message into my classes.
Again, thank you and I look forward to our next meeting.
Nancy O'Neil
Hi Julie,
I just want to express my great satisfaction as I received the DVD's and they
are great…it was worth the money specially the cardio combo's, it helps me
a lot since I have a lot of aqua classes and I only do aqua, in many gyms, so
I needed variation, and this is the best purchase I did lately.
…Nice to meet you in the videos 😉
I will definitely recommend it to colleagues.
Regards,
Marcela Lia Wierny (Quebec, Canada)
To whom it may concern at WaterArt
Yes, I did complete my practical with Patty (Jackson) on Sunday May 29/07
in Barrie Ontario at the East Bayfield Community Complex!
Further to that, I would like to commend Patty leading/instructing
an excellent course. It was fun, motivating and informative. The course
moved along at a good pace with time for discussion, questions and
answers. You barely noticed the time go by. I would recommend courses that
she instructs to anyone.
Thanks
Maureen (Ontario, Canada)
Julie, your class was awesome I learned so much from you. My ladies do like the change, which surprised me. Thank you so much. I'm looking forward to taking some more classes in the future. I love the change I have gotten 11 good comment cards in the last 3 days of me teaching saying they all love the change and feel good. One lady said that her pain has gone away due to her posture changing. All I can say is it was worth me taking this class.
Thank you
Marci (South Carolina, USA)
Thank you; it was a great workshop in Myrtle Beech. I have a question about the dance portion that Drucilla did; what was the first song of the class?
Susan (Tennessee, USA)
Thank you so much! I will turn in the check on Saturday. You all are the best organization we have ever worked with. It is a pleasure to know that you are
so people friendly. We are looking forward to the session on Saturday.
Best of Health and God bless!
Collette Henderson, Michigan Athletic Club Water Fitness Instructor
(Michigan, USA)
Julie,
I wanted to let you know that I really enjoyed the MB conference, attending the WaterArt workshop Thursday and meeting you. I think the APFA presenters were great – all very knowledgeable. Thanks for everything!
Debra (South Carolina, USA)
OK, thanks, all is well. Wow! I am so impressed! Nice job with the website and even the message board! I still have to send my gold member certified story & picture. So are you still in need of volunteers? At first glance it looks like you do not
need any, but I want to be sure. I would love to help if needed…
Ilene (Ontario, Canada)
Diana,
Thank you so much for such great instruction and training. I really learned a lot from you and have been able to better myself as an instructor. If you could send me any information or advice on how to proceed with the Personal training in the water I would appreciate it.
Thanks again,
Macey (Virginia, USA)
Julie,
Just wanted to thank you very much for a wonderful conference in OC, MD. It was a lot of fun and educational. Your mom is really terrific and inspiring. I'm really hoping to sign up for your trainers program in the near future.
Thanks again,
Tina (Virginia, USA)
Chris did an incredible job with covering many medical conditions. I love having the courses at this location, as I work there and it is extremely
convenient to not have to travel. We deal with many of these medical conditions in all our group exercise classes. Chris went out of her way to
bring us up to date materials to take home, outside of the WaterArt provided materials. This was one of Chris's finest efforts!!
Thank you,
Debby (Florida, USA)
Hi Tina,
I just wanted to thank you for a great training this weekend. I have learned so much in so little time and I think you are an amazing motivator! I now feel so inspired and I cannot wait to teach! I really appreciate all the work you put in the training and all the great tips you gave us.
Thanks again!
Marie (Ontario, Canada)
Hello Julie,
Wow!!!!! I cannot say enough about the outstanding experience I had at the training with Judy Conley this weekend at Juniper Swim & Fitness in Bend
OR.
I appreciate the amount of information…it was not overload, but a very good overview. Judy made the participants feel at ease and enabled us who came from a variety of backgrounds and experience to present our practical "exams" without pressure and minimal stress. Thank you, Thank you, and Thank you. I will certainly recommend Water Art to others.
Sincerely,
Julia (Oregon, USA)
Thank you so much for the Waterart class. It was certainly valuable and I have a lot to learn. I especially enjoyed the time in the water when we could practice. I would love to come to your class some time so you may see me. Thanks for all your hard work.
Judy Walseth (Washington, USA)
Drusilla:
Thanks, I could not have achieved my goals without your company's educational programs that make learning fun. This has been a scary and
huge learning process, leaving senior recreation behind and opening my own LLC. I hope and dream of having certified Water Art instructors in all our
surrounding communities from Hydro Fitness. I would love to provide a link to Water Art on the site. This way when someone is asking about education for their facility you area click away.
Thanks again for all the exciting education I hope to catch up with you soon.
Laura (Florida, USA)
Hi Julie,
My membership package arrived here in Arizona, safe and sound — thanks very much – I love the cuffs!!! Just for your info Julie — I am teaching two aqua classes again this year at our RV resort here in Yuma, Arizona and the numbers of participants are growing. I have many compliments not only the fun we have but how great everyone feels and remember!!
Thanks again!
Diane (Ontario, Canada)
I writing a little note to say Thank you…I got my order & it's now under my X-Mas tree…I check it & I received what I had order & in the time frame
given to me in the previous e-mail…
Merry X-Mas to your team…
Sonia
Hi Julie!
Thank-you for coming out last weekend for the Workshops! The response from staff was great; they really enjoyed attending the WaterArt workshops and as you know, are now interested in the Personal Training Specialist and Weight Management Consultant Programs!
Weight Management Consultant Certification Program is also an interest and we would like to host this one in the Fall if possible.
Hope to hear from you soon!
Jennifer (Ontario, Canada)