Description
Don't you think your baby realizes it's missing out on the fun when it sees Mom, Dad and older siblings swimming and frolicking in the water? Don't leave that baby behind. Bring it in for some safe aqua-adventures with the Baby Spring Float. Your baby sits in a harness centered inside of two extra-large flotation chambers. This stable and secure float will have your youngest water lover cooing and kicking. Inflating and deflating is a cinch and is completed in seconds. The Baby Spring Float also comes with its own carry bag for easy transport and storage. Ages 9-24 months.
Adorable prints to match your baby's personality! Blue Sailor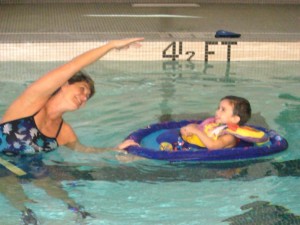 Features of this baby floaty include:
Fabric cover and soft mesh seat for durability and comfort.
Large circumference and an inner spring around the outside edge for added stability.
Dual inflation chambers and child safety valves enhance security.
Mesh play space for toys and splashing.
Folds flat into three compact rings for portability and storage – it's a great baby float for travel!
Carry bag included.
Ages: 9-24 mos.
Made in China
Please note that this is not a legal lifesaving device and parent should be with child in supervised area at all times. Add a life jacket for the babies protection.
SKU: Baby-Boats-11604