Description
PROGRAMMING FOR COMMON MEDICAL CONDITIONS
Learn to incorporate safe, effective and multi-level programming for common conditions of the hip, knee and back. Learn a complete group exercise program start to finish. Review a balanced program design so that all components of fitness are trained. Review general guidelines for helping your clients/patrons with  orthopedic (hip, knee, shoulder, back, neck ), neuromuscular, cardiopulmonary, arthritis, obesity, hypertension, diabetes and other debilitating medical conditions. Learn how to modify or progress an exercise to help people gain the most out of their program.
SKU: 1500-191103-Anacortes-cmc
---
Earlybird Registration Date:

October 9, 2019
---
Course Registration Fee Includes:
WaterART workshop handouts
4 hours of lecture & pool time
WaterART Mitts (choose size)
Certificate of course completion
4 CECs for WaterART, AEA, ACE (You may petition other organizations).
ALL REGISTRATIONS VIA WaterART Fitness!
---
Master Trainer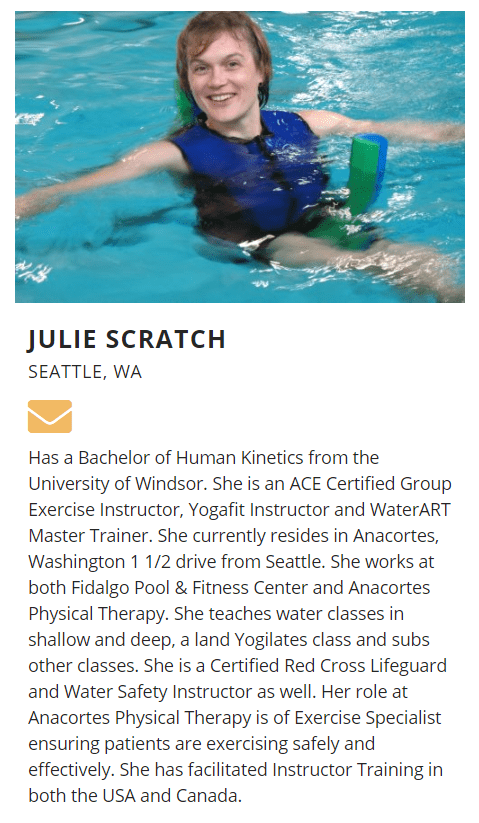 ---
Facility Contact
Facility Contact: Julie Scratch or phone at (360) 293 0673
Staff members please contact Julie for discount code.
---
What to Bring:
Lunch or snack
for water sessions please bring Water Fitness Wear or Bathing Suit(s)
Towel/cover up
Pen and paper
Water-shoes are preferred wear.
---