Virtual Training for Shallow & Deep H2O Workshop
Friday, October 9, 2020 @ 8:30 am
EDT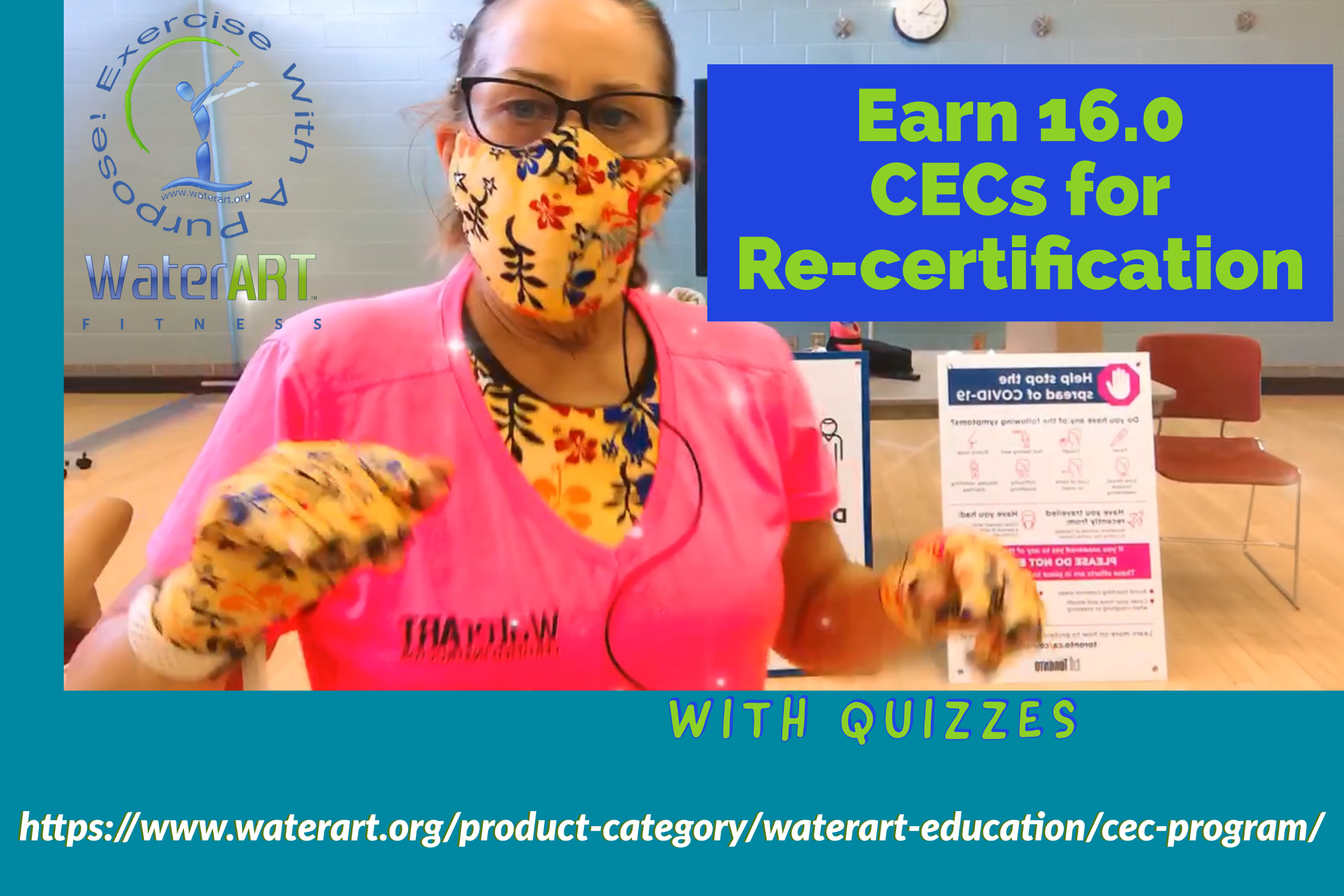 We taped the September 12 & 19, 2020 – 8:30 am – 5:00 pm program just so you wouldn't miss out.

You do not need a pool to become a part of this event and whether you are new or just needing a review -this program will help you get back to the pool safely. Covid-19 crisis has caused many challenges to our fitness industry and this is a way to interact and review materials without doing onsite education. You will review these programs via Vimeo video streaming showcase. We do recommend with home study that you also get up and move around and mirror the Master Trainers when relevant. You may review these video programs on any type of  smart device  or computer. You will also receive links to complete the 16.0 CECs of quizzes via online multiple choice exam.
This session will explore both shallow and deep water depths and how to design safe, effective and enjoyable programs during the Covid 19 pandemic. Most of our professionals have had to adjust with new plans to keep programs going. Whether you are teaching or just starting out -this is a great way to be sure you are modifying for safety and the many skills we have to organize in any given program.
Stay motivated and educated to re-qualify  your Certification to be able to teach/lead a total body aquatic group exercise program.
If you are taking the full certification option – you will receive the updates so you may create safe and purposeful programs.
You may sign up for any option and you will receive the appropriate materials for review or study. You must enroll with the links below to receive the specified link emailed on the day of the training. Paid registrations will have access to the video of the session for up to six months after the training. Enjoy & Join in!
Day 1 – Saturday, September 12, 2020
Back to School with Shallow H2O Splash
Julie Twynham
Tips to co-exist with Covid-19 to stay safe and well.
8:30 -9:30 am 
Adriana Affinito
Back to Basics

9:30 – 10:45 am 60 minutes

Joanne Hannan
Easy Does it -On the Spot Training

60 minutes

Jane Pomponio
Shallow H2O Workout  with Covid Safety in mind

75 minutes

Rikki Gross
On the Spot Training Muscles for Activation and Function

60 minutes

Adriana Affinito
Mixing Shallow & Deep H2O Depth (for more space)

 30 minutes

Julie Twynham
Cardio Combinations to keep Everyone Moving
(on the spot)  45 minutes
Rikki Gross
Visual Communication

30 minutes

Julie Twynham
Closing reminder, Wrap Up & Q & A

 15 minutes

Day 2 – Saturday, September 19, 2020
All about Staying Well
Julie Twynham
Welcome and Updates about WaterART Fitness
 30 minutes
Dr. Leigh de Groot
Mental Wellness with tips for Self Care

75 minutes

Julie Twynham
Blending Tai Chi, Yoga, Pilates for a Mind Body Connection

10:30-12:00 noon   60 minutes

Drusilla Leitch
Practical Assessments – what to expect

Deep H2O Body Positions

Amanda Sommer
Muscle Up without equipment

45 minutes

Clare Whetstone
How to Stay in Balance -Tips on how to protect your immune system and keep your chakras  in balance.

45 minutes

Drusilla Leitch
Wonderful Warm Ups in shallow H2O

60 minutes

Julie Twynham
Instructor Tips for Safe Deck Work

Noodle Body Positions

60 minutes

Conclusion – Let's Keep our livelihood and lifestyle by adding  a safety plan to our programs.